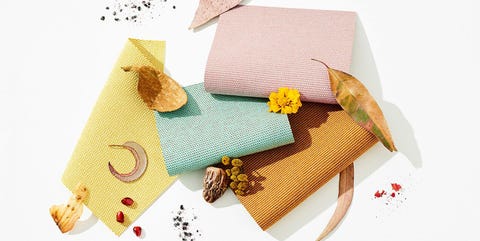 With the climate-change crisis now looming over all aspects of life, sustainability efforts are no longer a niche offering by companies looking to expand their customer base. Eco-conscious products—no matter the brand, no matter the industry—are now expected by consumers. We've seen the fashion industry take several strides toward reducing its carbon footprint over the last few seasons, but what do some of these sustainability efforts look like within the interior design industry?
Many textiles—particularly those intended for use in home environments—are treated and finished with chemicals and other environmentally unfriendly substances in order to increase their functionality. That said, a few innovative brands are rethinking these old ways. Here you'll find eight fabrics that are trying to save the world.
Re-Wool, one of textile manufacturer Kvadrat's many commitments to sustainability, is made with 45 percent recycled wool. The non-recycled wool gives the fabric its color, while the recycled portions reduce its environmental impact, since it has already been treated and processed. As such, the costs and emissions associated with transportation, farming, and dyeing are taken out of the equation completely.
Learn More
Micro, a panel textile, is part of Knoll's constantly expanding line of environmentally conscious fabrics—it's made from 100 percent recycled materials. Knoll's commitment to sustainable sourcing has led to a six percent drop in the company's landfill waste and a nine percent decrease in its greenhouse gas emissions.
Learn More
3
A Band Apart by Maharam
This bio-based textile, only one of the eco-conscious offerings from Maharam, refutes the concept that sustainable equals neutral. A Band Apart, by Sarah Morris for Maharam, is a bold and colorful upholstery textile that also happens to be good for the planet. Maharam's sustainable practices include lines of textiles that are bio-based, made from recycled content, and Greenguard-certified.
Learn More
4
Xorel Kaleidoscope by Carnegie
Suited for a number of uses across interiors, including headboards, lighting, and upholstery, Xorel is Carnegie's first sustainable, high-performance textile and is sourced from the sugarcane plant instead of fossil fuels. Launched in 2013, this high-tech fabric, shown here in the Kaleidoscope pattern, offers no compromises on performance or quality and causes no lasting detriments to the environment.
Learn More
Because they're typically treated with chemical finishes, sustainable outdoor fabrics can be hard to come by. However, Patio provides an eco-friendly alternative to its conventional outdoor counterparts. Kvadrat instead employs a water-repellent coating based on fat-modified compounds, elevating its eco-conscious profile without sacrificing functionality.
Learn More
6
Snake Charmer by Pollack
This 100 percent recycled fabric features a jacquard pattern that gives it a snakeskin-like motif; the manufacturing process uses four varying weights of polyester yarn to give it its textured surface and ribs.
Learn More
7
Crafted Cloud by HBF Textiles
Choosing sustainable materials doesn't have to involve a special certification or a confusing acronym. Sometimes it's as simple as working with natural materials versus chemically produced ones. Crafted Cloud is made from 70 percent rapidly renewable resources, primarily wool, which eases the environmental strain in the production process.
Learn More
8
Renaissance by Sunbrella
When fabrics are manufactured, the finishing process leaves leftover fiber and yarn cutoffs. Renaissance by Sunbrella gives these cutoffs new life by creating a fiber composed of at least 50 perecent of the leftover material, which is then melded with new materials to ensure that the final product meets the expected performance standards.
Learn More