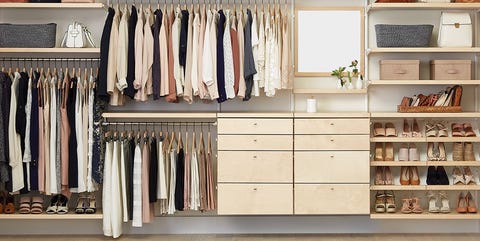 A good closet is not just well organized—it should be attractive as well. Whether you've been longing for a spacious walk-in or a simple area with brilliant storage solutions for your capsule wardrobe, there's a solution for you. To help you get started, we've rounded up some of the best closet systems you can find right now. These closet systems display the perfect blend of style and function.
1
The Container Store's Avera
When it comes to a budget-friendly system, celebrity closet designer Lisa Adams loves to recommend The Container Store's new Avera line. "It offers a few design details that I incorporate into my custom designs—from lighting to angled shoe shelves to drawer inserts," she says. "I like the storage bins that fit perfectly into their cubbies!" — Lisa Adams
Starts at $3,539
Learn More

2
California Closets' Paxton
If you live for a transitional modern aesthetic, look no further than the Paxon closet system from California Closets. From hidden hardware and adjustable bars to luxe finishes and its versatile Everstyle Drawer System, the system can be configured to your liking.
Inquire for Pricing
Learn More

The Algot from Ikea is a popular inexpensive closet system. Its beyond versatile, as you can choose components to be used for everything from a traditional closet space to a garage or office area.

Starting from $38
Learn More
Onare is another closet brand Lisa Adams appreciates. "I really like Ornare's integrated wall closet system because it can tie harmoniously to other spaces in the home," she says. "They also have a nice collection of accessories to fit into drawers, as well as metal accessories that slide for display and convenience. For me, everything in the closet has to have its place, and Ornare offers solutions for this."

Inquire for Pricing
Learn More
5
The Container Store's Elfa
There's a reason why customers rave about The Container Store's Elfa closet system. Once you provide their expert with detailed measurements of your space, you can land on the right closet plan for your needs. Pricing varies based on the size of your space, the finishes you end up selecting, and the number of shelves and drawers included in your design plan.

Starts at $754
Learn More
Looking for a reasonably priced closet system? ClosetMaid offers a slew of options at retailers like Wayfair and Amazon. Many of its designs come in multiple sizes and finishes. Plus, there are kits for walk-in closets or simple reach-in closet areas.

$395, Wayfair
Learn More
John Louis Home is known for its 100% solid wood closet systems at affordable price points. Many offer ample shelf storage, drawers, and space for hanging your clothing.

$1,026, Overstock
Learn More
Rubbermaid offers an impressive range of affordable closet systems, which can be customized to maximize your storage space. The brand also carries organizers to keep clutter at bay.

$93, Amazon
Learn More

Easy-to-install closet systems is Easy Track's main selling point. Whether you're planning a children's closet or a luxe walk-in, there's a kit for you. The company also works with ORG Home if you need in-person assistance with installation.
$214 - $255, Walmart
Learn More
Closet Factory is perfect for a person who enjoys choosing from a wide range of design options. You'll collaborate with a designer to create the perfect custom closet based on your space and the amount of belongings you're looking to store. The designer will hone in on your aesthetic to choose the best finishes, materials, accessories, and other organizational options for your dream closet.

Inquire for Pricing
Learn More
Rebrilliant excels at simple, convenient storage solutions, including a range of walk-in closet design systems with adequate shelving and hanging space.

$2,000, Wayfair
Learn More