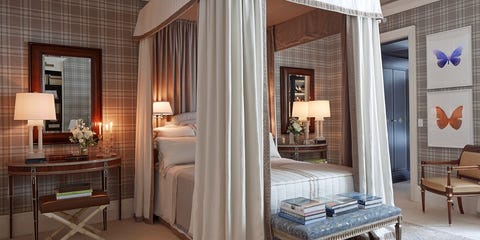 Tartan is one of those steadfast patterns that is declared a trend every few years. Despite what you may think, tartan is not reserved solely for the Christmas season, or for those still in their grunge phase, or for Pacific Northwest lumberjacks. All tartans are plaids, but not all plaids are tartans. The difference is precise: In order for a design to be a tartan, the vertical pattern of intersections must match the horizontal patterns exactly. To put it simply, tartans have a more regular pattern than plaids.
Tartan's popularity can be traced to 16th-century Scotland, where it is best known for identifying various Highland clans, thanks to its vast number of colorways—each family had their own distinct colors and pattern. After the Battle of Culloden in 1745, the plaids were banned to dishearten the Scottish rebels and discourage such identification. Once the English throne got ahold of the iconic check, its social status only went up. From floor to ceiling and everywhere in between, tartan is a pattern that adds interest to any home, all year round.
If you're feeling bold, take a note from Suzanne Kasler. The coordinating wallcovering and curtains add a dramatic flair, and the corresponding desk chair ties the room together. And the blue-and-purple colorway pops!
In the drawing room of a 19th-century Normandy house decorated by Franz Potisek, the curtains are of a plaid wool by Sanderson. Hanging them from ceiling height draws the eye upward.

For a seamless look, keep it in the family—the color family, that is. For the 2015 Kips Bay Decorator Show House, designer David Phoenix decked out a master bedroom in wall-to-wall tartan. The neutral palette makes it timeless, while the canopy bed adds an element of grandeur.
ED A-List designer Isabel López-Quesada is no stranger to tartan. In this Madrid home, the living room takes it one step further than your traditional plaid throw. The light-colored floors and curtains balance out the darker walls.
In Ken Fulk's Victorian cottage on Cape Cod, a 19th-century vintage sofa, upholstered in a green and brown–checked Ralph Lauren Home plaid, anchors this sitting room. It divides the space and draws your eye in.
Tartans are sprinkled throughout Francesca Connolly's Brooklyn townhouse. In this bedroom, a vintage sofa is upholstered in a brown tartan, which adds warmth yet also helps to break up the more neutral color palette.
Tartan doesn't have to be kept in storage until the temperatures drop. In this Houston home designed by J. Randall Powers, the Mies van der Rohe chairs are adorned in a Jane Shelton check. Light and airy, this green plaid abandons all seasonal stereotypes.
Don't be afraid to mix patterns. This living room, in designer Scot Meacham Wood's home in San Francisco, is a master class in tartan application. The armchair coordinates with the throw pillows on the sofa; contrasting colors in the same pattern are integrated seamlessly to balance the room.
In this showhouse designed by Alessandra Branca, here's another example for those who love pattern but might be afraid to commit to an entire tartan room—adding the check to a few large pieces won't overwhelm the eyes. Both the sofa and the armchair are upholstered in an Alessandra Branca for Schumacher plaid.
Yes, tartans have long been associated with the Christmas season—here, Suzanne Kasler sprinkles touches of coordinating plaids throughout this living room. Even the gift wrapping and tree blanket are in tune, bringing the room together festively.